Die BRAVO The Hits 2010!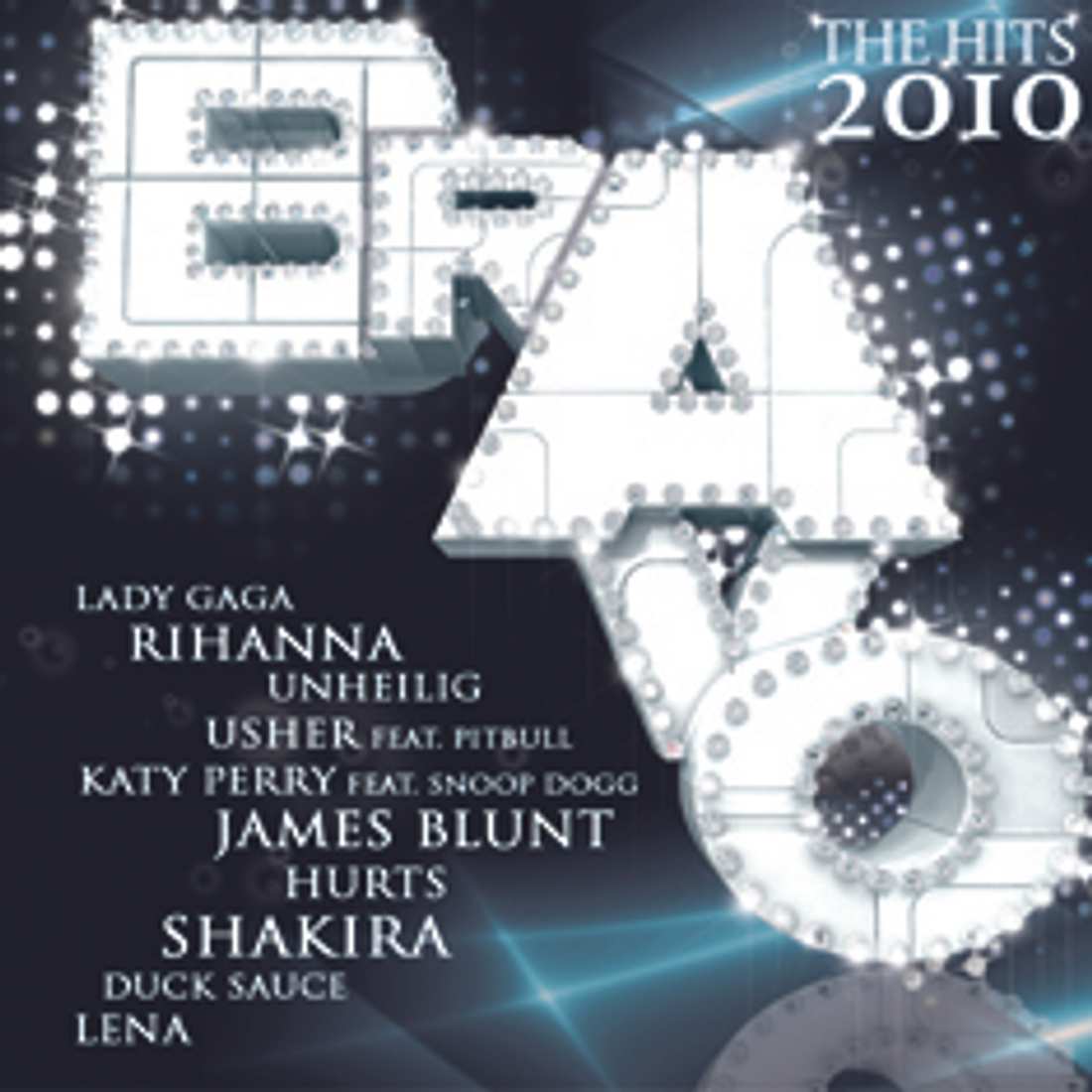 Deine Top Hits aus dem Jahr 2010 auf einer CD vereint - mit Rihanna, Katy Perry, Shakira und Co.!
Das Jahr 2010 hat so einige tolle Hits mit sich gebracht! Hier gibt es sie's geballt auf zwei CDs! Die perfekte Mischung für eine coole Party - check gleich, welche coolen Hits dabei sind!
Die BRAVO The Hits 2010 erscheint am 19. November 2010
Auf der BRAVO The Hits 2010 findest du 42 brandheiße Songs, mit dabei sind unter anderem Katy Perry, Rihanna, Robbie Williams, Lena, Keri Hilson, David Guetta, Unheilig, die Black Eyed Peas und viele mehr!
» Mehr Infos auf www.bravohits.de!
» Hier geht's zum BRAVO Hits-Archiv!
Alle Tracks im Überblick:
CD 1:
. Rihanna - Only Girl (In The World)
2. Usher feat. Pitbull - DJ Got Us Fallin' In Love
3. Katy Perry feat. Snoop Dogg - California Gurls
4. Lady GaGa - Bad Romance
5. Duck Sauce - Barbra Streisand
6. The Black Eyed Peas - Meet Me Halfway
7. Shakira - Waka Waka (This Time For Africa)
8. K'naan feat. will.i.am & David Guetta - Wavin' Flag
9. Madcon - Glow
0. Cheryl Cole - Fight For This Love
. Aloe Blacc - I Need A Dollar
2. Taio Cruz feat. Ludacris - Break Your Heart
3. Ke$ha - Tik Tok
4. Iyaz - Replay
5. Keri Hilson - I Like
6. Kylie Minogue - All The Lovers
7. Velile & Safri Duo - Helele
8. Edward Maya feat. Vika Jigulina - Stereo Love
9. Stromae - Alors On Danse
20. David Guetta feat. Kid Cudi - Memories
21. Yolanda Be Cool & Dcup - We No Speak Americano
CD 2:
. Hurts - Wonderful Life
2. Robbie Williams & Gary Barlow - Shame
3. James Blunt - Stay The Night
4. Lena - Satellite
5. Owl City - Fireflies
6. Adam Lambert - Whataya Want From Me
7. Train - Hey, Soul Sister
8. Aura Dione - I Will Love You Monday (365)
9. OneRepublic - Marchin' On
0. Amy Macdonald - Don't Tell Me It's Over
. Empire Of The Sun - We Are The People
2. Unheilig - Geboren um zu leben
3. Xavier Naidoo - Bitte hör nicht auf zu träumen
4. Sido feat. Adel Tawil - Der Himmel soll warten
5. Mehrzad Marashi - Don't Believe
6. Jason Derülo - Whatcha Say
7. Timbaland feat. Nelly Furtado & Soshy - Morning After Dark
8. Culcha Candela - Move It
9. Die Fantastischen Vier - Gebt uns ruhig die Schuld
20. Die Atzen (Frauenarzt & Manny Marc) - Disco Pogo
21. Martin Solveig & Dragonette - Hello